Discipleship Groups (Men & Women)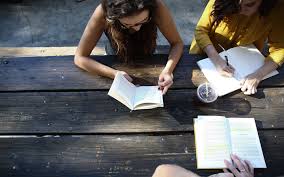 Hardin MEN
On February 1, we will launch new Men's Discipleship Groups. These groups will consist of 5-6 men who will meet weekly, usually over breakfast. For nine weeks (ending just before Spring Break) we will learn how to "fight the good fight of faith" as we study 1 & 2 Timothy together.
You will read and respond to three weekly readings on your own and then meet up once a week in your group to talk about what God showed you in His Word. All you need is a Bible and journal to get started.
To join a discipleship group, please fill out the form below and we will reach out soon. We look forward to you joining us!
Rooted WOMEN
Ladies, a new Precept Inductive Bible Study, Acts, Part 2, "Paul, Jesus' Witness to the Gentiles," will begin in March. Plan to join us as we observe Paul's transformation from persecutor of the church to preacher. Learn to be like Paul, to be bold in proclaiming the name of Jesus, and to trust our sovereign Lord who enables us to endure persecution and suffering in the hands of those who hate Jesus, and therefore, hate us.

To sign up for the 16-week study, click here and you will be contacted soon with more information.

For those not familiar with Precept Inductive Bible Study, it can be a bit overwhelming at first. However, you will soon find that this method of Bible study is one of the best! Katie Cunningham will be teaching on the basics of Precept for four weeks beginning Sunday, Feb 7, 9:15 AM, at our 641 location. You will learn the nuts & bolts of this amazing method of inductive Bible study. Come join us!

To sign up, click here!