A Partnership with Passion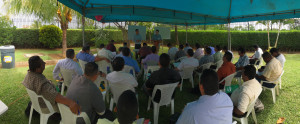 Again and again, God has continued to use our amazing partnered churches in the States to bless the people of Nicaragua, as only God is able.
Hardin Baptist Church, located in Hardin, Kentucky, has been serving our Lord in Nicaragua through Partners In Christ for nine years. God has used them in magnificent ways during this time. Through their service, we have seen many lives transformed by God's power.  A community has been revived as the Lord has used the willing hands of Hardin Baptist teams to revive their very dead school to become a model for the country; literally thousands of children have been clearly taught the Gospel of Jesus Christ, and churches have been equipped for what God has called them to do.
This month, Pastor Kory Cunningham, who is the associate pastor, along with his dad and Senior Pastor, Brother Ricky, returned to Nicaragua to host a two day pastors conference at the PIC ministry headquarters In Managua.  Pastor Kory has been a catalyst of service in Nicaragua during these years of partnership, and God has shown him a need and put a burden on his heart to teach and share his God-given wisdom with our partnered pastors. The pastors in Nicaragua have a great desire for training, teaching and discipleship materials for their calling. At this conference there were nearly 40 pastors in attendance and all were blessed by two full days of teaching, and the many books and study resources the pastors brought from the States. Many topics were covered and the Nicaraguan pastors had many good questions.  Only God knows the impact and the ripple effect that these precious days will have for His kingdom.
At the end of the first day's teaching, Pastor Kory had a great surprise for all of the Nicaragua pastors. Through a very generous donor at Hardin Baptist Church, every pastor in attendance was taken to a local Christian bookstore, and they were gifted up to $100.00 on any resource there that they desired for their ministries. This was a HUGE blessing for these bi-professional, impoverished shepherds.  They would never be able to do something like this on their own. Here's what it looks like when 40 pastors descend on a bookstore. 
As if all this wasn't already enough, Pastor Kory had another surprise. Back in June, when Kory was serving with his team of nearly 40 students, he had asked his partnered pastor in Nicaragua,  "What is your number one need?" Pastor Roberto explained that he has been praying for many years that God would provide a way to transport church goers to the church each time they have a service. There are many people in his large community that would love to attend church services, but the walk is long and sometimes difficult due to weather conditions. Pastor Kory prayed about this and took the need back to his church in Kentucky. As is typical for Hardin Baptist Church, they went above and beyond expectations and provided more than enough money to buy their pastor in Nicaragua a very nice bus to serve the members of this church. See a short video clip of the moment the pastor receives the bus gift. 
As by now you realize, the needs of the people and pastors in Nicaragua are very great. The Nicaraguan pastors are very hungry for teaching and resources. The people are hungry physically and spiritually for the word. If you want  to help in any way:  financially, serving with a team, or maybe going and teaching; please contact us and we'll help make the vision God is laying on your heart a reality.
Garland Alford (Director of PIC).
To donate towards the mission of PIC click here:
GIVE