Gathering Update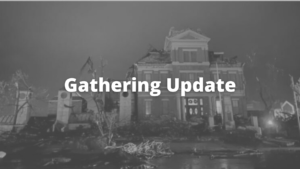 Church Family,
Like you, we are devastated by the recent destruction in Mayfield, Marshall, and beyond. We pray you and your family are ok, and if able, you are seeking to help your neighbor during this time of tragedy. Here are a few things to know —
1. Tomorrow we will gather ONLINE only (NOT in-person). If you can, join us at 9:15am online at www.hardinbaptist.org, facebook, or YouTube. We will share a brief devotion and pray for one another, our neighbors, and our local communities.
2. The Mayfield Sheriff requested no more volunteers at this time in Mayfield to allow first responders to clear roads and gain access to people in need. 
3. We are working with various organizations such as 8 Days of Hope and Send Relief. We will let you know as soon as volunteer opportunities arise. For now, check on your neighbors and let us know if you need anything. 
May the Lord use us and other churches during this tragic time to shine His light and love to all.
HB Team